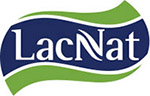 CHEESE POR SALUT LIGHT
CON FITOESTEREOLES Y ANTIOXIDANTES NATURALES,
AYUDA A REDUCIR EL COLESTEROL
Provides 30% less total fat than LacNat Salut cheese.
This cheese has a soft, elastic consistency and distinctive flavor and bouquet. This reduced –fat cheese is highly recommended for people who need to consume low-fat products.
INGREDIENTS
Standarized pasteurized milk, lactic bacterial culture, rennet, calcium chloride and sodium chloride.

NUTRITION FACTS
Serving size 30g (1slice). Energetic value 91 Kcal = 382 KJ (5% DV*); Proteins 5,9 g (8 % DV); Total Fat 6,9 g (13 %DV) Saturated Fat 4g (18 % DV); Sodium 135 mg (6 % DV). It does not contribute a significant amount of Carbohydrates, Trans fat and Dietary fiber. (*) Percent Daily Values are based on a 2.000 Kcal. or 8.400 KJ. Your daily values may be higher or lower depending on your calorie needs

STORAGE
60 days stored at refrigerated temperature between 2 to 8º C..
PRESENTATION
Whole cheese of 500 grs. approximately, vacuum - packed and packaged into boxes containing 12 units each.