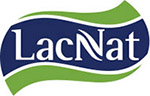 CHEESE MOZZARELLA LIGHT

It is obtained by threads of acidify mass, completed with the action of specific bacterium. This light version offers special characteristics to those people who are looking for a good shape or have to follow a diet. It gives them the possibility of both, a taste and healthy food at once.
INGREDIENTS
Reduced-fat pasteurized milk, lactic bacterial culture, rennet, calcium chloride and sodium chloride.

NUTRITION FACTS
Serving size 30 g (1 slice). Energetic value 80 Kcal = 336 KJ (4 % DV*); Proteins 7,4 g (10 % DV); Total Fat 5,1 g (9 % DV); Saturated Fat 2,8 g (13 %DV); Sodium 239 mg (10% DV). It does not contribute a significant amount of Carbohydrates, Trans Fat and Dietary Fiber. (*) Percent Daily Values are based on a diet of 2.000 Kcal. or 8.400 KJ. Your daily values may be higher or lower depending on your calorie needs.

STORAGE
120 days stored at refrigerated temperature between 2 to 8ºC
PRESENTATION
Whole cheese of 950 grs. approximately, vacuumwrapped and packed into boxes of 12 units each. Whole cheese of 450 grs. approximately, vacuum –wrapped and packed into boxes of 20 units each.